An exciting match one everyone has been waiting for France VS Honduras. They are rank 33 in the world and France is rank 17.
We are off, kick off taken by Honduras a fast start with both teams moving the ball quickly. 3 minutes into the match a great save by lloris the French goalkeeper followed by lots of pressure by the French. In the seventh minute Patrice Evra got a yellow card for an appalling tackle, the games first yellow card. Most of the French shots were getting tipped over Vallad the Honduras keepers' bar. There was some nice football by France and a near chance for Griezman.
After fifteen minutes Honduras were trying to hold on when there was an injury for Honduras which caused them to make a substitution. France plays around Honduras. A yellow card is given to Palacios for a horrendous tackle and Pogba for his reaction. The French had increased their number of attacks.
After the 30 minute mark each team had some counter-attacks but Griezman gives the ball away in important part of pitch.
Five minutes until half-time, and a red card for Palacios and a penalty for France Benzema takes and he scores.
The second half starts France play around Honduras and a break away from France and Benzema scores, no wait, own goal. This should have been Benzema's goal.
A lovely shot back where it came from hits the inside of the post then bounces across the line rebounds off the keeper and roles over the line before the keeper scoops it out. 1st time goal line technology really needed in the world cup.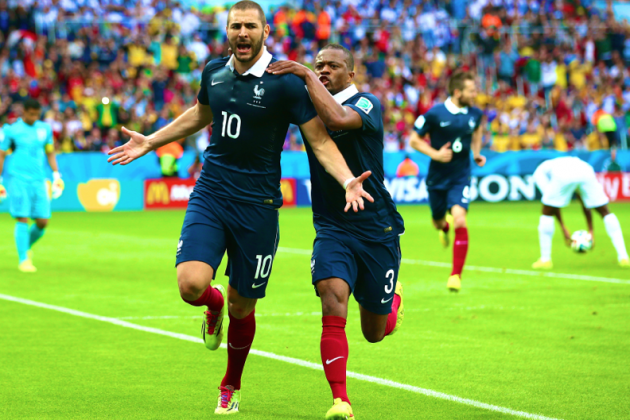 50 minute mark there is a hand ball, free kick for France. Cabaye takes it over the wall, Goal! Oh no side netting.
Lovely tackle by Sakho and a counter-attack for France and shot gets put over bar by keeper. Corner to France the corner comes in and is cleared out of the box but comes back in and is at Benzema's feet the wolup in the top of the net, goal! France holding on shot over bar by Matuidi, three added minutes the final whistle blows 3-0 whitewash.